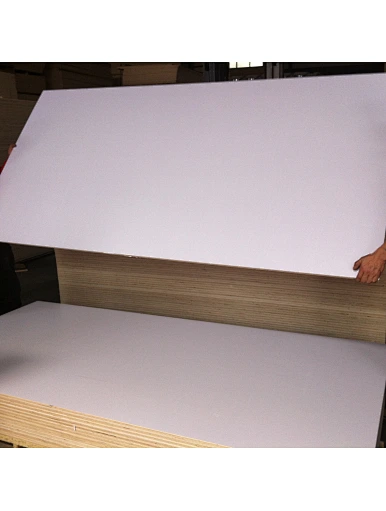 White Melamine Laminated Plywood
White Melamine Paper Laminated Plywood for furniture

Size: 1220*2440mm, 1250*2500mm
Thickness: 4-21mm
Core material: combi, hardwood, etc.
Glue: Melamine glue, E1, E2
Moisture content: 6-10%
Application: furniture, indoor decoration, bathroom furniture, etc
Melamine Laminated Plywood is a kind of decorative plywood made by plywood and melamine paper. Melamine plywood has been called HDF in Nigeria market, is very useful plywood material in furniture producing and construction decoration. It's use good quality core material and made by special producing skill. After finish the baseboard, it will be put in the hot press machine which is totally automatic process. It can be divided into different grade by the using glue.
Melamine Laminated Plywood
Size: 1220*2440mm, 1250*2500mm
Thickness: 4-21mm
Core material: poplar,eucalyptus, birch, pine, combi, hardwood, etc.
Glue: Melamine glue, E1, E2
Moisture content: 6-10%
Application: furniture, indoor decoration, bathroom furniture, etc
Melamine Laminated Plywood