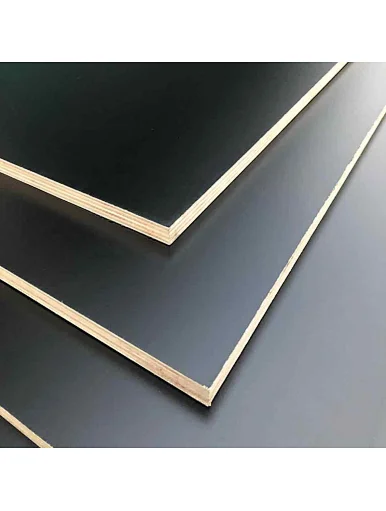 Black Melamine paper laminated plywood Black color melamined paper board
Black Melamine Paper Laminated Plywood for furniture

Size: 1220*2440mm, 1250*2500mm
Thickness: 4-21mm
Core material: combi, hardwood, etc.
Glue: Melamine glue, E1, E2
Moisture content: 6-10%
Application: furniture, indoor decoration, bathroom furniture, etc
Black color melamined board
Size: 1220*2440mm, 1250*2500mm
Thickness: 4-21mm
Core material: combi, hardwood, etc.
Glue: Melamine glue, E1, E2
Moisture content: 6-10%
Black color melamined board
Application: furniture, indoor decoration, bathroom furniture, etc 
What are melamine boards used for?
Black color melamined board, due to their resistance to the elements, melamine boards are often used as external cladding on homes and buildings. They can also be used as a decorative wall covering, in place of tiles or other materials. Melamine boards are non-toxic, so they are also a popular choice for use in children's bedrooms and playrooms. In addition, melamine boards are easy to clean and maintain, making them a versatile option for a variety of applications.