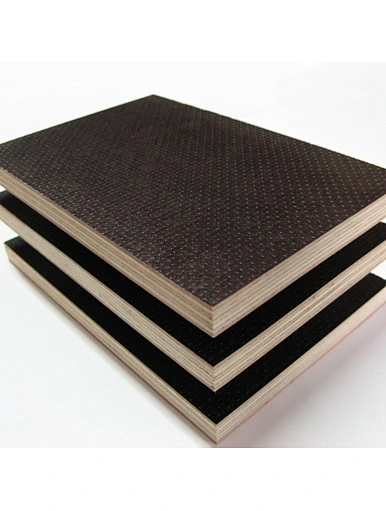 Anti-slip Film Faced Plywood/Non-slip film faced plywood
Anti-slip Film Faced Plywood/Non-slip film faced plywood

Size: 1220*2440mm, 1250*2500mm;
Thickness: 9mm/12mm/15mm/18mm/21mm/25mm
Core Material: poplar, hardwood, combi, etc;
Glue: WBP Melamine glue, phenolic glue A bond
Surface: Black film/brown film
Anti-slip Film Faced Plywood/Non-slip film faced plywood

Anti-Slip film faced plywood is manufactured with slip resistant texture on one side and a phenolic resin coated film on the other side for moisture protection in wet conditions.
Anti-slip Film Faced PlywoodThe rough-surfaced non-slip plywood is an heavy-duty, multipurpose panel flooring sheet for applications requiring a reliable, long-lasting anti-slip surface.
Anti-slip Film Faced Plywood 

Size: 1220*2440mm, 1250*2500mm
Thickness: 9-30mm
Core Material: poplar, combi, hardwood, birch, etc
Glue: WBP melamine glue, phenolic glue (72 hours in boiling water)
Moisture content: 6-10%
Application: The phenolic bonded plywood are extensively used in the manufacture and repair of flight cases, stagings, disabled access ramps and scaffoldings, climbing-walls, flooring, Arena-seating, Bridges, Boat-building, Grandstands, Horseboxes-horse-trailers, Panel-van-flooring, Narrowboat-decking, Marquee-flooring, Racing-car-components, Stages, Temporary-event-flooring, Steps, Shopfitting, Scaffold-platforms, Railway-wagons-carriages, Vehicle-flooring-decking, Trailers and Trailer-flooring.
Anti-slip Film Faced Plywood